Prayer Ministry
The prayer Ministry serves as a prayer support system for our church family, our staff, and for people throughout our city, state, nation, and the world.
The Christ-followers, after Christ ascended, gathered in prayer and fellowship. Luke tell us in Acts 2:42, "They were continually devoting themselves to the apostles' teaching and to fellowship, to the breaking of bread and to prayer."

Ladies' Prayer Groups
Every Friday at Hilltop Lakes Chapel
Time: 10:00 am
Contact Dr. Margaret Wagner for more information.
email:
We have two small groups of women who pray on Friday mornings and would love for you to join us. We can create new groups at anytime, as well as Men's groups. Join us as we pray for our church, our community, our country, and lift up others in need of prayer. You will be blessed each week as you join in prayer with other godly Christians.
Weekly Prayer-April 3, 2020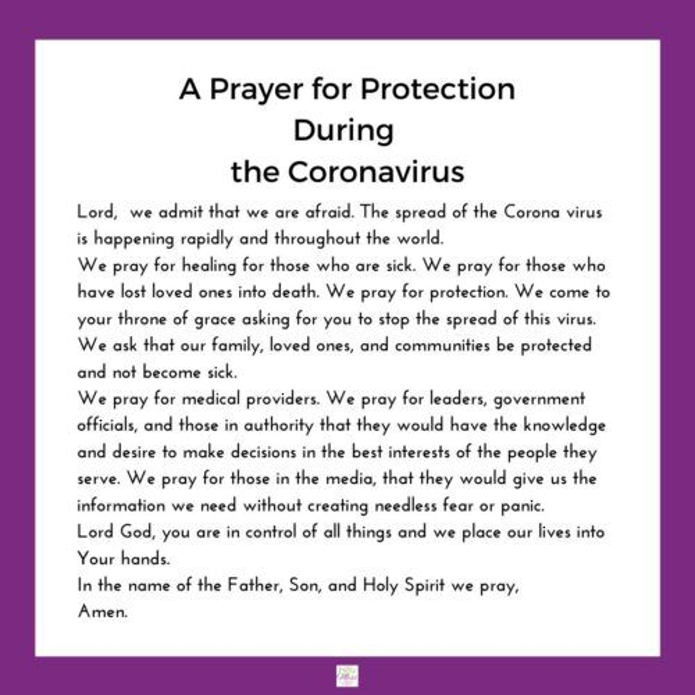 There is no greater power in what we as Christians do than "prayer." We have several groups of prayer warriors that meet and pray from the special requests we receive. We would be honored to pray for you or someone in need.

If you have a prayer request, you can make it known by filling out the form below or by filling out a prayer request card located on the back of each pew in the sanctuary. Cards can be dropped in the offering plate.

If you would like to sign up to receive Prayer Network updates; please fill out the subscribe form located at the bottom of the page.
Mission Prayer List
Campus Ministry - Travis Hillman
Christar - Peter & Kathy Clark
Jouglards—France
Masters Study Scholarship
Frontier- Howards, Middle East
Hospice Brazos Valley
Hospitality House in Huntsville
Hungary Mission
Lamberts, Missionaries in Mexico
Leon County Child Welfare
Leon County Domestic Violence
Leon Community Food Pantry And
Clothes Closet
Literacy & Evangelism International
Normangee Food Pantry
Salvation Army
Still Creek Ranch
Baloyos—Philippines
Wycliffe Bible Translators
Sunday Bulletin Prayer List
Gladys Watson—Accell Rehab
Bill Johnston—Crestview, Bryan
Kathryn Hardin—Carriage Inn, Bryan
Norm Woodruf— Carriage Inn, Conroe
Mel Thompson—Watercrest Senior Apartments
Monte White—Madisonville Assisted Living
Pat Sims—Madisonville Care Center
Diane Johnson
Winnie Rober
I. D. & Gale Pounds (Hospice)
Carole Alford
Garyn Person
Trish Noey
Belinda Edwards
Bill Flender
Buddy Laird
Brad Tigner
Brenda Billings
Brandon Crouch
Brandon Slayton
Carolyn Ivison
Carolyn Steinberg
Ce Ce Walder
Chris Huggard
Deanne Stout
Debbie Garceau
Debbie Hajek
Delia Medders
Don Johnson
Eric Lee
Family of Bobby Roy
Odie Loftis
Glen Hicks
Glen McGill
Hutton Hayes
Janis Ewing
Jim Rucker
Johnny Newberry
Kathy Aleman
Kathleen Field
Mason Spellings
Pat Sims
Pastor Ross Cunningham
Ray Carpenter, Jr.
Ron Rue
Sue Wiebold
Winston Walls
MILITARY PRAYER LIST
ARMY
Keith Albrecht
Wesley Brown
Jim Daigle
Chaplain Warren Haggray
Dave Hansen
Bradley Hutchins
William Lisenby
Justin Middleton
Patrick Morrison
Byron Player
Eric Stone
Owen Thornhill
Jeremy White
John Fulton
Kurt Weller
NATIONAL GUARD
Leslie Allen Thomas
Grant Eflord
FIRST RESPONDER
PERSONNEL
Austin Dickson
Rod Hovey
Bryan Hovey
Richard Kimberlin
Stephen Pate
David Rosenbaum
Josh Simon
Anthony Taylor, Jr.
COAST GUARD
Todd Ghormley
NAVY
Chip Broughton
Zachery Clover
Alvin Faircloth
Bryan Miller
Chaplain Joe Roach
MARINES
Laurynn Ashpaugh
Capt. Corey Boudiette
Kristian Hernandez
Will Holland
Deron Johnson
Nathan Rollins
Zachary Taylor
Zak Walls
AIR FORCE
Chip Campbell
David Compton
Peter Jeb Davis
Mike Green
Joel Livingston
Joshua Kim
Andy Pate
James Pickle
Steven Sellers
Jennifer Wilson
Patrick Rains
Unspecified Branch
Gary Skinner
Bret Walcott
If you have a need for prayer or if you have a prayer request for someone, please fill out this form: